About me
Hello guys! I want to tell you a bit about myself. Over the years, you've asked me a lot of questions about who I am, what I like, how did I get into selling my worn stuff on the Web. Well, I'll try to answer as many questions as I can here.

Name - Karina
Birth date - June 21
Height - 170 cm (5 feet 7 inches)
Weight - 61kg (135 lbs)
Shoe Size - 38 (European), 7.5 (US), 5 (British), 24 (Japanese)
Favorite Music - A-Ha, The Cranberries/Dolores O'Riordan
Favorite Movie - Source Code (Director Duncan Jones)
Favorite TV series - Breaking Bad, Billions, Better Call Saul, Fargo
Favorite food - that which I cook myself


---
My Twitter Account:


https://twitter.com/usedpanty
(I don't use it much. Please send me a message from the site)
---
1. A New Career as a Web Cam Performer

I graduated with a marketing degree, but struggled to find suitable work. The companies I applied to all wanted people with experience, which as a new graduate I lacked. Also, female interviewers sometimes seemed rather resentful of me, and insisted on appointing a male candidate. I guess the ladies just didn't want a very attractive and sexy young girl on their team ;-)

I had a succession of temporary jobs and got on with life, but didn't enjoy the work and wasted a couple of years career-wise. Then I started realising that I could maybe employ my marketing skills and commercial instincts on promoting myself rather than someone else's product. I had known from my teen years that guys find me attractive and sexy, and I'm fairly uninhibited about sexuality, so I started investigating web cam work. After exploring all the main sites, and studying the reviews, I selected the site that seemed best for me, signed up, and went online one night.





(I sold all these bras afterwards)


I'm very glad I chose this site. Some really nice guys are regulars, and I've enjoyed teasing and performing for quite a few of them now ;) Also the site hosts many girls: I've chatted to many of them and they've nearly all been very friendly and sweet. Gentlemen, if you're into web cam, I recommend giving it a try. With all those lovely girls, there must be at least one who meets all your criteria for fresh meat (in the extremely unlikely event that I don't quite match your every criterion ;-) )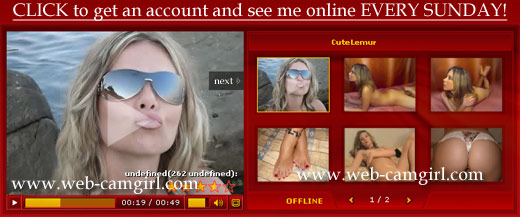 Being on Jasmin regularly enabled me to move quickly up the learning curve, I was paid very well, and I discovered soooo much about male fetishes and fantasies! I could write a book about it! I established my boundaries, and never consented to anything I felt was very weird or dangerous. One of the greatest pleasures was dealing with the guys, many of whom I got to like, especially the men with a good sense of humor. I love that, it's the most important thing for me!


2. How I came to sell my worn underwear/hosiery
One evening, one of my regular clients on LiveJasmin asked me if I would sell him the panties I was wearing. My instant reaction was "OMG no, it's crazy, I will never do that!" Although I told him 'No', still giggling at the request, I googled it, and discovered the world of used panty sellers. "Maybe it's not so bad after all?" I thought. I got back to the guy and told him I'd changed my mind if he was interested. He was a nice guy, and I saw no harm at all in pleasing him if that was what he wanted. Also, I realised that many other guys shared his fetish, so maybe I could try it out with him.

I shipped them, and was nervously biting my nails throughout the transit period, wondering whether my new customer would like my worn panties. I had no idea about exactly what panty buyers look for, how smelly they had to be, whether he minded (or actually wanted) pussy juice stains. I was the innocent novice girl in the Grand Temple of Panty-Love. But I had a calling, and panty selling was soon to become a habit ;)

When he told me how much he had enjoyed my panties, and ordered another pair, I was jumping in the air!


3. Starting my personal web site
I sold some more pairs of my Karina scented panties to my web cam gentlemen, and thought: "Hmmm... I could become a millionaire doing this!" (LOL). My marketing experience told me that I needed my own web site to make the most of the opportunity. I hired a freelance web designer to set up a simple site for me, and to show me how to change and upload content, and my worn garment selling enterprise was on the road. This was in 2007. Here is a link to the early site content ... Now I was again in uncharted (for me) territory again. I had to work out how to market and promote myself to new buyers beyond my web cam clientele. But I knew this was going to be fun!

I researched and studied the market in great detail, and became once more the studious and persistent schoolgirl, eager to learn more about my chosen speciality. In response to early demand, I extended my offering from used panties to stockings, pantyhose, socks and quite a few other treasures. I was pleased that guys liked my worn items, and often came back again and again to buy more. It was also a pleasure to discover how good natured and polite most of my customers were, how they clearly respected me as a person, and enjoyed our communication before during and after their purchase. Although I'd thought it gross at first when that guy first asked to buy my dirty panties, I quickly changed my mind and realised that it is a perfectly natural male desire. My panties smell really sweet, and most guys adore the natural scent of a healthy young woman, so where is the problem in letting them buy what they want so much?

It's an ever- changing story and I continue to introduce new ideas, and new things to sell, in response to feedback from my buyers, and my own instinct for what you guys like and want. So if there is something you'd like to have that I don't offer, please just let me know via email, or via the Contact page if you're not yet a customer, and I'll respond to all respectful and sane suggestions. I have some great guys who have been with me for years, and I am still attracting valued new clients all the time. It's a special two-way relationship: by supporting me, respecting and praising me, coming back to me, these guys inspire me to give my best, and I plough back a sizeable proportion of my income into my wardrobe etc to make myself even sexier and cuter for them!


4. My Friendship Area
My web cam girl experience made me very comfortable about teasing and showing myself off to guys on camera, and I found that I enjoyed making videos wearing panties and other garments that I was selling on my web site. I could put small clips on my public site, and you can see many clips in my free area there now. But I felt that much of what I get up to on camera is a tad too explicit to put on a public site with no entry barriers. Also, for longer videos, the bandwidth costs make it too expensive to host them on a free site. So I opened my Members' Site to enable clients to enjoy my full length unedited videos, and my more explicit photos, in return for a small recurring fee which pays for my bandwidth cost and gives me an additional income stream.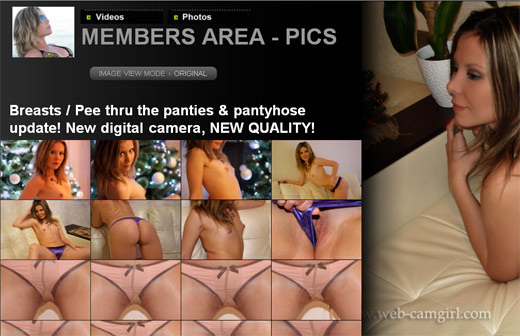 I've learned that there are many men who have the fetishes, but can't buy my panties (because their wives would find out, or they are in the army, or live with parents, or have nosy roommates, whatever). All members get emails from me, sometimes with photos not available on my sites, according to what they want. My Members' Site enables them to explore and enjoy their fetishes online, and to build a relationship with me. I know that some guys find it such a relief to have a girl who understands and enjoys feeding their fetish, and treating them in the ways they need to be treated. I enjoy getting to know my members, and have fun teasing them and helping them to satisfy their fetish. I send you photos from my everyday life, and photos reflecting your fetishes, as part of our regular email exchange, to make you know you're special. I particularly value the guys with a good sense of humor, complementing mine - I have already said this, but it deserves repeating!

And by joining my Members' Site, you are supporting me and my efforts, enabling me to work even harder on this project and be an even busier sweet honeybee for you all (but I only sting if you beg me hard enough LOL)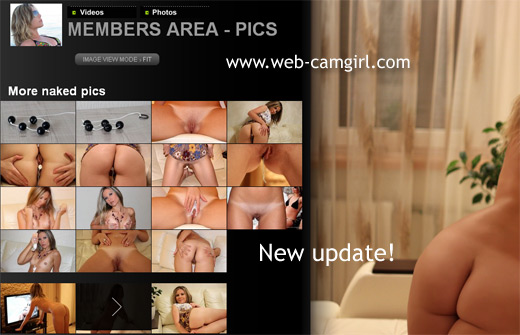 I have come to realise that there are a lot of you guys who feel that there is something missing in your lives, and you come to me and find something close to what you seek. I'm that ray of light after a month of cold dull days, reminding you of how beautiful the colors are just when you'd almost forgotten. The feedback, the gifts, the subscriptions you give me, all really help to motivate me to continue devoting time to this project. I could put in much less, and would still make a good income from selling my worn stuff, and from Members' Site subscriptions. Your respectful, humorous interactions with me, and your gifts, whether they are payments for my Wishlist items or spontaneous tributes, make a big difference for me. Most of them are quite small, $20, $30 or $40 maybe, but they help me to shine, and keep that ray of light strong.

It's great to wake up in the morning and check my inbox to find that a few guys have transferred money to me, or renewed a lapsed subscription, and please don't think that I think badly of you if you only have $20 to send this time. All gifts, subscriptions and purchases are appreciated, they help fire me up, and increase the energy flowing between us.

I don't think that I'm an out and out material girl ;-) There are plenty of them in the fetish business, and you can't tell their eye color for the spinning dollar signs in their eyes he-he I am not rich, but do quite well, and always invest quite a lot of the money I earn in buying sexy new clothes and footwear, and having good cosmetics. OK, I am a girl, and like these things for their own sakes, but they also enable me to become even more attractive and sexy for you guys, so it's a virtuous circle!

I'm so NOT the Material Girl of popular culture that I can even wear a t-shirt for 3 seasons, see the photos below! What woman have you ever heard say that before? ;)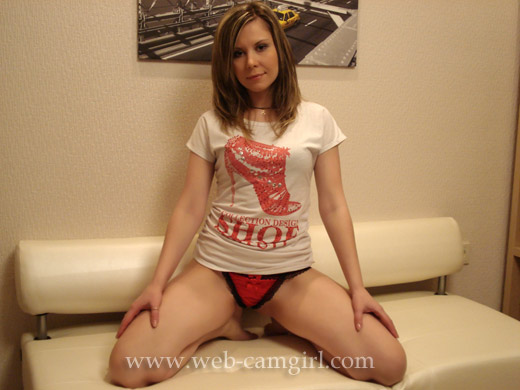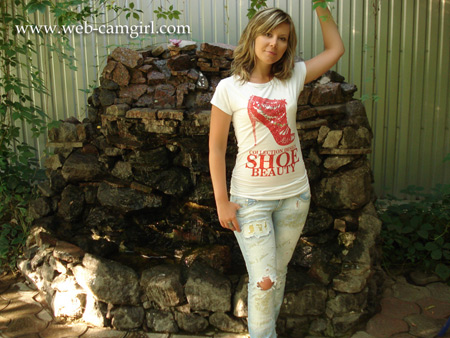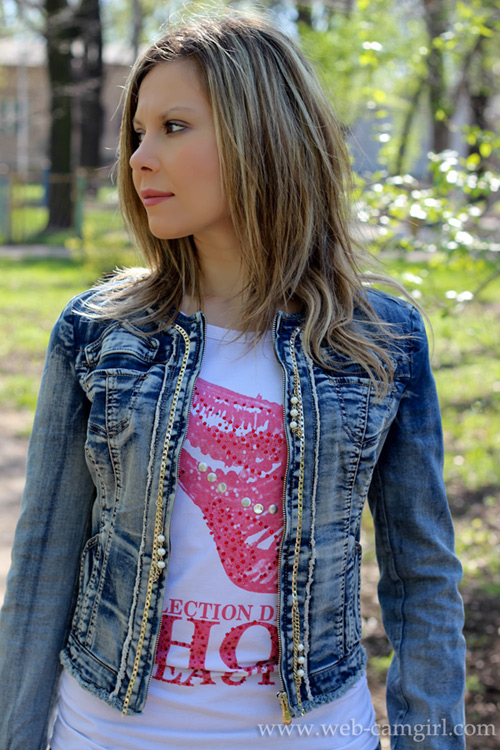 I want to break the stereotype that all girls are thinking about diamonds and expensive shoes all the time. Maybe some can't live without those things, but I am not like that. Or maybe I just haven't had that much money yet! LOL

I prefer to spend money on things that bring lasting benefit, such as renovating my apartment. 2010 was quite an interesting year for me! I bought my apartment cheaply because it was in a poor state internally, and undertook the massive task of completely renovating it. I had builders in for ages, and it was very trying, believe me. But it was worth it, because now I have my place just as I like it, and you can see parts of it in some of my videos and photos. If you're interested, I can send you some before and after photos to show what I did. As you will see from my Wishlist page, quite a few items of furniture and appliances have been funded by my generous admirers - thank you guys! I love how you are willing to dig into your wallets and make a small sacrifice to do this for me. It brings an extra sparkle to my eyes, and sometimes even makes my pussy go a bit moist ;-) , all of which makes me even sexier for you ;-)


5. Food
I love to cook and eat my own food, even when it takes away time that I could otherwise use having fun, building my sites or communicating with you guys. I love to eat the food I cook. I have never eaten a single hamburger in McDonald's as I am a practical healthy girl, and would rather cook something tasty than eat plastic additive-packed food. I don't drink any soda beverages. I just don't want to drink them. They're full of chemicals and sugars, and I don't want them polluting my body. I do like to have a cup of tea with lemon while I'm replying to email messages. Here are some photos of what I cook and drink! That's why my peed-in panties smell like almonds. lol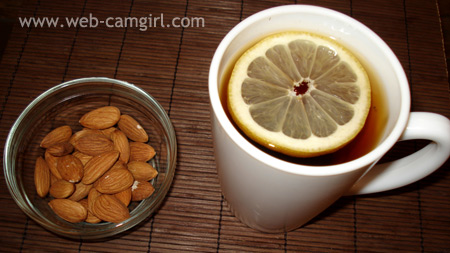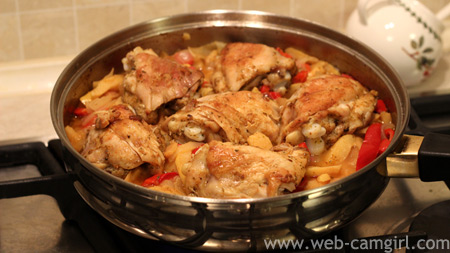 These pics are mine and I love to cook. I also love to have a tea with almonds before I go to sleep.
6. Favourite movies and musicians.
I don't like any current pop groups and singers, unlike many girls of my age. I like to listen to vintage bands such "The Cranberries", with Dolores O'Riordan, "A-Ha" and some bands you have probably never heard of. I listen for a touch of originality. The same with movies. I like clever movies that give you something to ponder, so it's about more than the action and the actors. Have you seen "The Skeleton Key", directed by Duncan Jones (David Bowie's son!)? It's one of the best I think. I HATE those stupid comedies about horny teenagers getting into trouble, as the humor is very primitive and so predictable. I think "Breaking Bad" is the best TV Show ever. It's sooooo funny and clever. Whenever a series is running, I can't wait for the next episode. MUST see!!!


7. Favourite Drinks
I am not a heavy drinker, but I love to drink occasionally. I like champagne the most, then white wine, also fancy cocktails, but pure drinks are better. I like to drink a beer, but usually only when it's hot outside and I can stop by somewhere and relax a bit drinking with friends. Not too often of course, and I never get very drunk. I also love to drink a cool beer on a hot summer's day, at the seaside, maybe wearing sunglasses and watching fit sexy boys stroll by in tight swimming costumes ;-)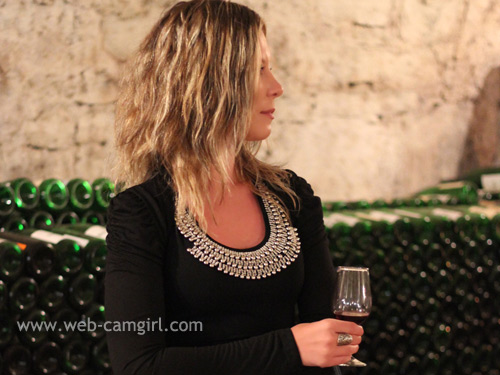 This photo was taken in the winery. I have some more photos, but I look a bit tipsy in the other pics. lol
8. My sexual preferences.
Like most girls I like sex, and have fantasies, but don't really have fetishes. I was amazed through my work to discover how many fetishes you guys have, most women simply have no idea! It must be a 'man thing' I guess, and I love you for it. Oh, I'm crazy about shoes, but not quite in the same way that some of my lovely foot fetishist admirers love shoes. LOL I am very open-minded and unshockable now though. Every time I get an order for something new, I try to think about it and see whether I'd like to have a similar experience. In truth, there is a romantic tender girl deep inside of me, so I'd say that my ideal sexual scenario is to make love with a man I feel for, in a nice place, maybe in the wood at midsummer, or on a beach, rather than dress up and do something crazy, but sometimes I am a bad girl and need to be spanked ;) - in a good way of course!

I also love to wear my sexy underwear for you guys. It often turns me on, especially when I have built a connection with the lucky guy! I have modelled and sold so many different pairs of panties I must be a Guinness World Record holder by now! My tastes change, as I used to think that I don't like full backs, but they are soooo warm and a pleasure to wear now. Thongs are also great, I love the way they separate my ass cheeks and press so tightly in my soft moist areas! I have also become a leading world expert on panty material, and know exactly the kind of sensations a particular fabric or cut will give my pussy and ass, and I should write a PhD on the capacity of different materials to absorb and retain a lady's intimate juices and scents!!!





---